Our market's analysis


In general

The best known fishing village in the world is also one of the most active real estate markets in France. It's a very particular market, since there will always be a clientele for such dream locations. Here, people's investments are more for pleasure than for profitability. Nevertheless - in the event of a re-sale - the increment value is usually quite substantial.

Saint-Tropez is a constant discovery. There will always be the charm of an unknown lane,

and people to love this unique setting.



Our clients are financially comfortable, but their purchases are the fruit of much thought, especially since a second home often becomes their principal place of residence.

Despite crisis, we are always on a very active market. But the sales that are closing are succeeding when the vendors are reasonable with regard to their prices. Indeed, two or three handsome transactions concerning exceptional products can easily give the wrong idea of the market; the prices quoted in the media lead to the destabilisation of the market and owners then tend to offer their property at prices well above their value. Too much publicity concerning the success of Saint-Tropez has impaired the success of Saint-Tropez. It would be a pity for a "yo-yo" effect to start distorting prices again. This could well discourage potential clients and "wear out" the few products for sale, by leaving them on the market for too long.

This is why - right from the start of our prospecting - we are very careful to evaluate property for sale at its true price, in collaboration with the owner, so that the transaction can take place at its correct value and thus satisfy both parties.

The trend - in terms of homes clients are

hoping to find - varies between the genuine old mas and the modern villa; the latter is difficult to build because of the architectural requirements laid down in the region.



As plots of land are few, our clients launch into major renovation projects - which do not discourage them - provided the property has genuine potential. Doubling the price of a house which is too small but perfectly located, in order to obtain a reasonable living area, is not a problem, provided this is possible since the administrative formalities are becoming more and more strict.

Focussing on the Peninsula

For a budget under 2 million Euros, it's usually necessary to plan big renovations. Between 2 and 5 million Euros, it is possible to find a pretty house with around 300 sq.m and 3 to 5.000 sq.m of ground, with a swimming pool. There is no sea-view.

In the next price range, i.e. from 5 to 10 million Euros, we really have trouble finding properties for our clients because they then expect a sea-view.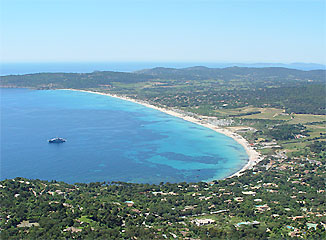 In fact, the cost of the "sea-view" is often above 10 million Euros.



As for well-located waterfront properties, which do not need any work, the price is above 20 million Euros, but these are obviously exceptional properties.



The prices quoted above are for the most highly-
prized quarters in Saint-Tropez : Ste-Anne, Capon, Canebiers, Tahiti and the guarded estates such as "Les Parcs de Saint-Tropez"
.



In the areas surrounding Saint-Tropez - which are just as pleasant - such as the vicinity of Pampelonne and L'Escalet in Ramatuelle commune or Les Moulins de Paillas and Sinopolis in Gassin, prices are lower but the "sea-view" criterion always leads to an over-evaluation.



SALES : A glimpse of properties for sale